Participants - Statistics
Thanks to everyone who registered and submitted abstracts! We have 60 participants who will attend our meeting. With nearly 50 presentations covering a wide range of topics centered around the muscle biology field, we hope that the AMC will be an exciting, illuminating (and fun!) experience for all.
You can find some statistical analysis of the participants and a complete list of participating scientists below. It will also be published in our scientific program.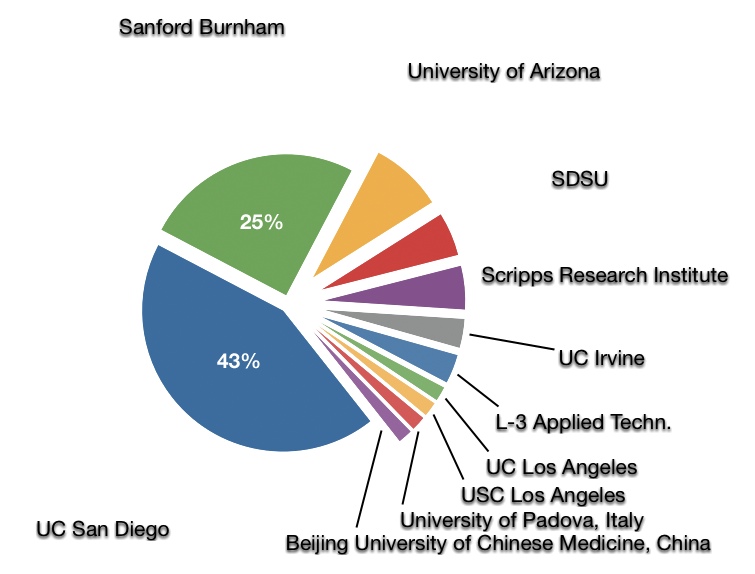 Because the AMC meeting is aimed at scientists early in their research career (PhD students, postdocs, junior faculty), we are delighted that nearly 3/4 of all attendees are PhD students or Postdocs! We look forward to exciting networking opportunities, and to hear from the people who do the majority of the experimental work in a modern research laboratory.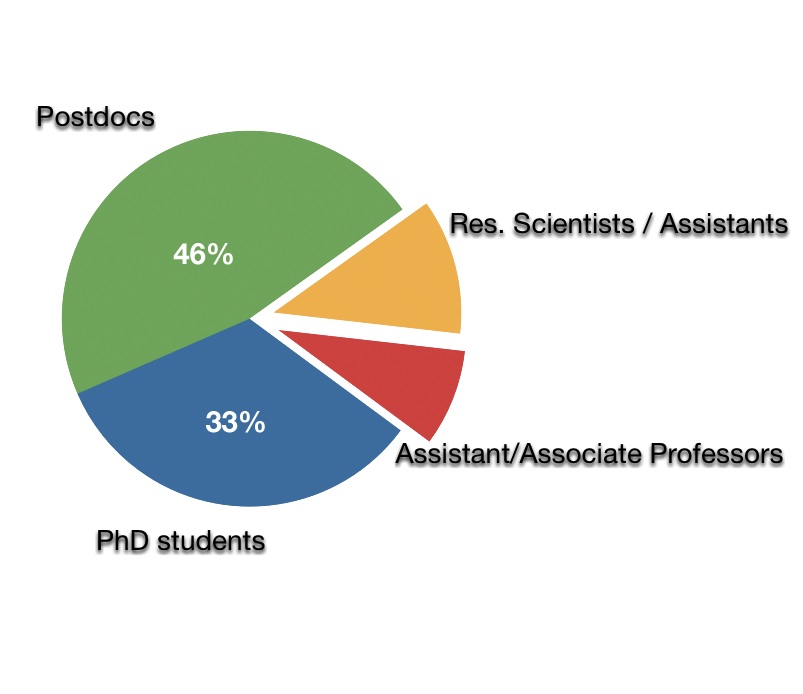 ---
Participants
Please refer to the program for latest updates on participating scientists.
| | | | | | |
| --- | --- | --- | --- | --- | --- |
| A | Abbott, Emily | UC Irvine | M | Manso, Ana Maria | UCSD School of Medicine, Department of Medicine and VA Healthcare San Diego |
| | Albini, Sonia | Sanford Burnham Institute | | Mathewson, Margie | University of California San Diego |
| | Aydogdu, Tufan | Sanford-Burnham Medical Research Institute | | McMorran, Brian | University of California, Los Angeles |
| B | Boscolo Sesillo, Francesca | Sanford Burnham Medical Research Institute | | Melkani, Girish | San Diego State University |
| C | Chao, Lily | Children's Hospital Los Angeles | | Meyer, Gretchen | UCSD |
| | Chapman, Mark | University of California - San Diego | | Michielin, Federica | Department of Industrial Engineering - University of Padova, Italy |
| | Chen, Zhen | UCSD | | Mohr, Laura | Sanford-Burnham Medical Research Institute |
| | Cho, Yoshitake | The Scripps Research Institute | | Moore-Morris, Thomas | UCSD |
| | Consonni, Silvio | UCSD | N | Naonobu, Fujita | UCSD |
| | Coutinho, Paula | Sanford-Burnham Medical Research Institute | | Novak, Stefanie | University of Arizona |
| D | Dall'Agnese, Alessandra | Sanford Burnham Medical Research Institute | | Nworu, Chinedu | University of Arizona |
| | Danos, Nicole | University of California Irvine | P | Pfeiffer, Emily | UCSD Bioengineering |
| | Dayanidhi, Sudarshan | UCSD | | Pykäläinen, Anette | UCSD |
| | Dewan, Sukriti | University Of California at San Diego | R | Rodriguez-Soto, Ana E. | UCSD |
| | Diaz Trelles, Ramon | Sanford Burnham Medical Research Institute | S | Sacco, Alessandra | Sanford-Burnham Medical Research Institute |
| | Domenighetti, Andrea | UCSD | | Sato, Eugene | UCSD |
| | Domenighetti, Andrea | UCSD | | SHENTU, TZU PIN | UCSD |
| | Doroudgar, Shirin | San Diego State University Heart Institute | | Stroud, Matt | UCSD |
| G | Gatto, Sole | Sanford-Burnham Medical Research Institute | T | Tapia, Olga | The Scripps Research Institute |
| | Giordani, Lorenzo | Sanford Burnham Medical Research Institute | | Taylor-Weiner, Hermes | University of California, San Diego |
| | Gokhin, David | The Scripps Research Institute | | Tierney, Matthew | Sanford-Burnham Medical Research Institute |
| | Gromova, Anastasia | Sanford Burnham Medical Research Institute | | Tsianos, George | L-3 Applied Technologies, Inc. |
| H | Henderson, Christine | University of Arizona | V | van Vliet, Piet | UCSD |
| | Houk, Andrew | UCSD | | Vincent, Ludovic | University of California, San Diego |
| I | Israeli, Sharon | UCSD/VA Healthcare | | Volkers, Mirko | San Diego State University |
| K | Kaushik, Gaurav | UCSD Bioengineering | X | Xue, Weiguo | Beijing university of chinese medicine |
| | Kiger, Amy | UCSD, Cell & Developmental Biology | Y | YANG, Long | Sanford-burnham Medical Research Institute |
| | Klos, Matt | UCSD | | Yoshida, Taishi | Sanford Burnham Medical Research Institute |
| | Konhilas, John | University of Arizona | Z | Zanella, Fabian | UCSD |
| | Krishnamurthy, Adarsh | UC San Diego | | Zhang, Jianlin | School of Medicine, UCSD |
| L | Lange, Stephan | University of California San Diego | | | |
| M | MacFadden, Lisa | L-3 Communic., Applied Techn., Inc. | | | |
| | Malecova, Barbora | Sanford-Burnham Medical research Institute | | | |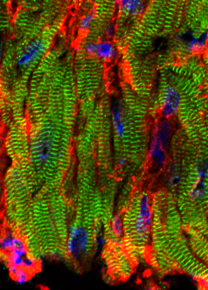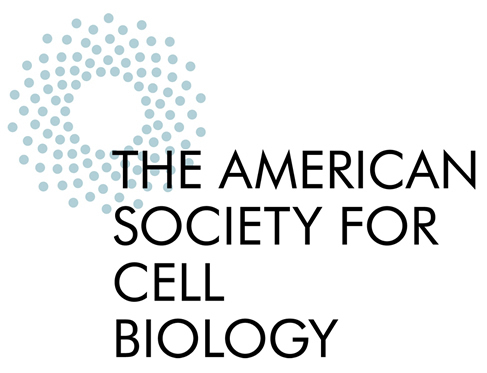 Page 'Breadcrumb' Navigation: