Nearly four weeks have passed since we sent out a post-meeting survey to all meeting attendees. We have been busy analyzing the responses and its time to see some results.
22 people have (mostly anonymously) given comments and rated our meeting in categories such as "Content", "Location" or "Organization". While that represents only a fifth of all registered attendees, we get an impression about their thoughts of how well we did.
Well, here are some statistics:




Looking at the statistics we are confident that a majority (over 70%) of people really loved the meeting.
Analyzing the data a bit further we saw that most of the people really liked the location, the organization of the meeting, and the podium sessions. However, looking at the ratings we also noticed that there is room to improve in the participation of attendees from (the local biotech) industry, in the meeting content, and the poster session.

Meeting Satisfaction - Breakdown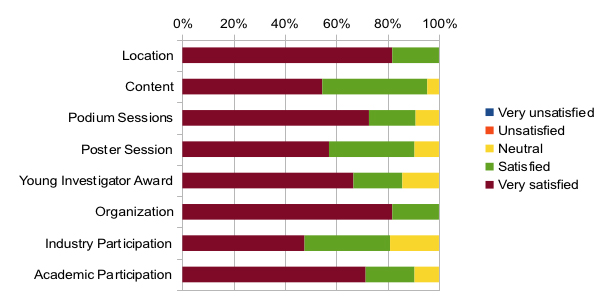 From the comments we heard that people really liked the organization and the Sanford Consortium for Regenerative Medicine as the location of the meeting. On the other hand, one of the biggest complaints were issues with the poster boards (mounting the poster with bad tape).

To be honest, we were positively surprised how many people turned up for this years meeting. Last year we had 60 participants. For this years meeting we aimed to accommodate 80 attendees in our initial budget. However, we were able to beat the estimates and attract 115 registered attendees.
As for the next AMC meeting, almost everyone would attend again if it were held in San Diego, with a third attending if it were in California, and a quarter attending if it were out of state.


Next years AMC


While the meeting was free to attend for the last two years, over 60% said that they would pay a fee to attend next years AMC. A third of people said that they would be willing to pay $50, another third said $25, and the remaining third thought only free is good.